October has only just started, but already my neighbors have put out their inflatable headless horseman, skull with googly eyes, and ghosts hanging from the trees. I wish I could be one of "those people." You know, the ones with organized holiday bins, each filled with window cling-ons, outdoor inflatables, and holiday-themed recipes books. Nope, not me. I'm the go-to-the-dollar-store-the-week-before kind of gal. However, while our house may not be in the holiday spirit at the moment, our iPad certainly is! There are spooky Halloween iPad apps galore available for all ages, and here are just a few to turn your family's iPad into the Halloween decoration of envy: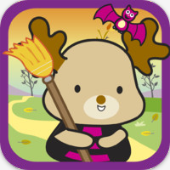 Elly Book 9 – The Spooky Party by Dipali Vaidya
For toddlers who may be unsure and a little spooked out by the idea of Halloween, this e-book app is the perfect way to introduce them to the world of spooky costumes in a gentle and lighthearted way. Join Elly as she enlists the help of her friends to come up with ideas for a costume to wear to a spooky-themed costume party. This app has a Read-to-Me narration feature and contains no ads or in-app purchases. $0.99, 4+ rating.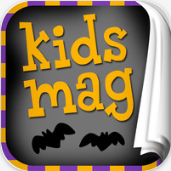 KidsMag Halloween Special Edition by Portegno Apps
Created for children 3 and above, this app contains 15 pages of Halloween-themed activity book content, including puzzles, coloring pages, dress up, spot the differences, counting candies, a Halloween story, and more. Help is available on every page in both audio and/or visual form. $1.99, 4+ rating.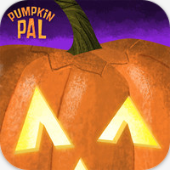 Pumpkin Pal by Jeff Mohl Design LLC
Put down the carving knife and grab this app instead! Choose from 4 different pumpkins and 18 custom shapes to build the pumpkin of your dreams. To go beyond the shapes provided, simply use your finger to carve into the pumpkin. Show off your creation in a full-screen display mode, using a slider to dim the lights, thus allowing your pumpkin's face to glow in the dark. Cheaper than a first-aid kit at $3.99, 4+ rating.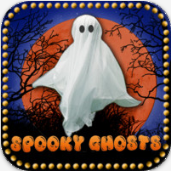 Spooky Ghosts by Lighthouse Internet, LLC
Halloween ghosts of different sizes travel at different speeds across the screen, randomly disappearing and reappearing. It's the player's job to tap the Halloween ghosts to make them disappear. If a ghost floats off the screen, the player gets a strike. Three strikes and it's game over! The speed of the ghosts gradually increases to high speed and then ultra high speed, making this a hit with all ages. $0.99, 4+ rating.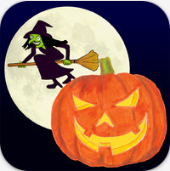 HallowsThieves by DESIGNX6 LLC
This app is a simple, single-screen, arcade-style Halloween game for kids, with no ads or in-app purchases. Simply protect your candy from the evil witch and her loyal band of candy-stealing ghosts. Variations of the game can be easily created by changing parameters such as the speed of the witch and ghosts, the length of game time, and the number of candies needed to win. $0.99, 4+ rating.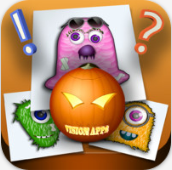 Guess Who I Am! – Halloween Monsters Edition by Clement Marty
Celebrate Halloween and help develop logical reasoning with this app, which was designed for the entire family from 4 years to 90. The goal is to guess the monster character just by asking simple questions. There are 5 game modes (including solo play and 2-player), 5 difficulty levels, and includes more than 70 characters. $1.99, 4+ rating.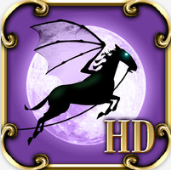 Spooky Hoofs HD by Gamesmold
For older kids who are into all things creepy, this endless runner game is the perfect Halloween app. The player will attempt to guide a noble stagecoach and its black horses through eerie woods and foggy marshes, all while avoiding demons and other creepy dwellers along the way. This app has been praised for its awesome graphics, cool art styles, and great power-ups; however, it does comes with a 9+ rating due to infrequent/mild cartoon or fantasy violence, infrequent/mild horror/fear themes, and infrequent/mild mature/suggestive themes. $1.99