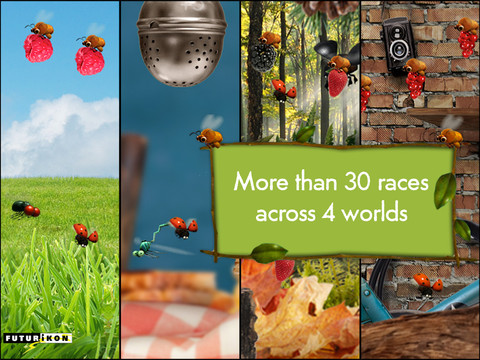 What do bugs do when you're not looking? Download Minuscule: The Private Life of Insects!
iPad Description:
Enter the tiny, but totally exciting world of Minuscule! This racing app follows the story of a mischievous Ladybug, an angry Fly, an army of Red Ants and many more interesting insects. At each level, you must race and dodge to collect coins – and unlock new environments to explore. What tiny wonders will you discover in your travels?

Each world offers 8 races with new powers and insects to earn. Zip through busy worlds filled with Bees, Grasshoppers, Butterflies, Dragonflies and Spiders – and learn fun facts about each of the 19 insects you meet.

Mini games in between each race allow you to earn more coins and purchase new abilities and power-ups. Test the limit of your tiny wings in the Endurance Mode to 'fly 'till you flop' and see how far you can go.

Minuscule: The Private Life of Insects is part of the Fingerprint Network of games for Learning and Play. Fingerprint offers a range of features to support the whole family including:

– A Shared Family Account makes it easy for kids and parents to share a device and allows parents to track the game play and learning of multiple children under a single account.

– In-App messaging lets kids and parents to send one another fun and encouraging messages.

– A curated Game Catalog suggests new Apps based on your child's interests and learning levels.

– Parent Controls keep In-App-Purchase behind a parent gate.
*Free Kids App of the Day is on ongoing series on iPadKids where we hand select a free app to be featured every day. We can only guarantee that the app was free at the time of publishing, so get in quick so you don't miss out!