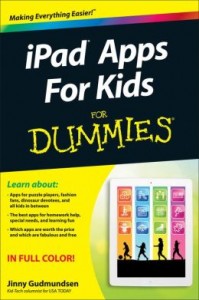 We all know those bright yellow 'For Dummies' books. They provide a very detailed users guide all sorts of things. From changing your own oil to speaking Russian, if you need to know about a topic, 'For Dummies' likely has a book for it! Now, much to the delight of parents everywhere, they have just released a new book called 'iPad Apps for Kids for Dummies'.
'iPad Apps for Kids for Dummies' is a great guide for any parent, grandparent, or caregiver who wants to download apps for the children in their life, but has no idea where to begin. With over half a million kids app on the market, there are great ones and the ones not worth the three seconds it took to download them. 'iPad Apps for Kids for Dummies' is great for cutting through the clutter as it highlights only the higher quality apps that are worth your time and, of course, your money.
The book breaks down apps in a number of different ways. It has a section that highlights especially awesome free apps (which are always worth talking about) and then proceeds to weigh paid apps in a quality vs. price breakdown. There is also an especially helpful how-to section that demonstrates how to use an iPad for children's educational purposes, how to choose age appropriate apps, how to choose apps for special needs children and how to avoid the pitfalls of unwanted in-app purchases that seem to inevitably ensnare parents and children alike at one point or another.
This book would make an excellent addition to any family who owns an iPad that their children have access to. The extensive quality app list alone makes 'iPad Apps for Kids for Dummies' worth the purchase price. That, coupled with the additional how-to info makes this 'For Dummies' book a must have!
Source: Barnes and Nobel