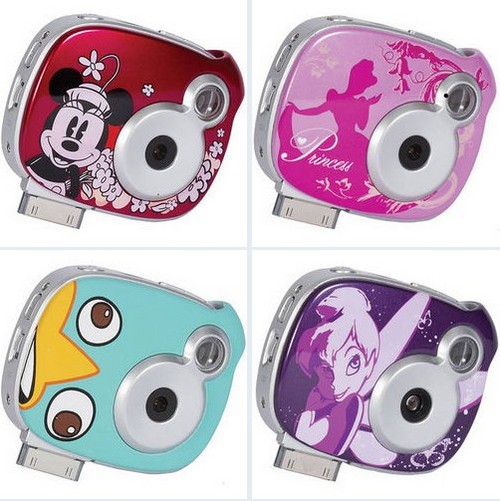 My kids love taking pictures with the iPad but their little hands have a hard time holding the device.  There are digital cameras designed specifically for kids but the most affordable ones won't transfer images to the iPad without the additional purchase of an expensive adapter.
Enter the Disney AppClix digital camera, made by electronics giant Sakar, who incidentally owns rights to Kodak and Polaroid products.  Functioning as a typical digital point-and-shoot and boasting 7.1 megapixels, the camera offers all of the features of more expensive "grown-up" models like zoom, flash capabilities, and red-eye correction.  When you're done taking shots of the dog or the view from the car window you can plug the camera directly into the iPad's charging port.  There's also a slot for an SD card to send pics to a PC, and a 1.5″ viewfinder.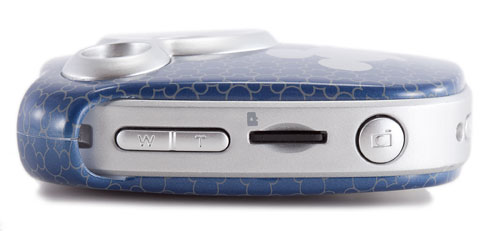 The accompanying photo editing app from Disney is a free download and allows you to add branded artwork to your pics.  You can also crop, rotate, and fix your images like any other editing app.  Either shots from the camera or from the iPad's camera can be uploaded to the program and saved, to be printed or shared via e-mail or social networking.
We bought the camera for our oldest (almost 5) for this Christmas and sadly we still haven't been able to send digital photos from the cam to the iPad.  We have had lots of fun taking pictures from the iPad camera and playing with them on our free app but we still can't upload our camera pics.  Also, the camera itself is small and not ruggedly made to withstand the abuse that comes at little hands; we've already had a few close calls walking down the stairs.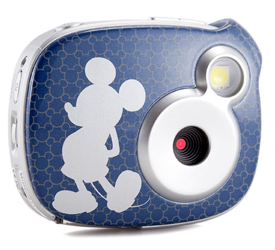 Prices range from just under $50 on Amazon.com to over $60 at Walmart stores.  At this price, it might be a little bit of a pricey investment unless you have a careful kiddo.  There are tougher, more durable kids' digital cameras for less money, and had we done our research we would have settled on that choice and spent a little extra money for the additional adapter.
The Good:
– Small size makes iPad photography portable
– Plugs right into iPad port without special adaptors
– Can function on its own as a digital camera
The Not-So-Good:
– "Delicate" fabrication makes it prone to damage when dropped
– You don't need the camera to download the photo editing app

Price: $49 – $59
Age: 4+
Portable digital photography for the iPad gets the Disney treatment with this pocket-sized camera