Bizzy Bear Builds A House is a very interactive storybook that continues the popular Bizzy Bear series with a fun trip to the construction yard.
Price: $3.99
Age: 3+
The story is centered more on the experience than the plot. With tons of things to poke, and the option for the story to read itself, it's definitely geared toward the youngest crowd.
WE HAVE TWO FREE PROMO CODES TO GIVE AWAY – READ AFTER THE REVIEW FOR DETAILS!
Pros:
– Your children get to revisit Bizzy Bear, who is likely a favorite by now
– 8 pages full of moving and interactive elements
– Words are highlighted as they're read
– The story is read by children with English accents… it's really cute
– A lot of thought went into the target audience (for example, you have to hit the "next" button twice to protect against accidental clicks)
Cons:
– It's not cheap, but it's still a real deal compared to a paper book.
Bizzy Bear Builds A House follows Bizzy Bear through a construction yard full of colorful animals that are working really hard to construct a house. Bizzy is told to put on his hard hat, and then they dive right into work. The dialogue is short and sweet, and very affirming throughout, as all the animals are incredibly thankful to have Bizzy's help. A young child will get a real kick out of some of the voices the child voice actors affect for the characters.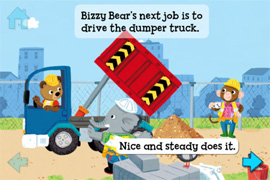 There are a million things to poke into activity on each page, and you can't go wrong swiping and running your hand across the screen. A blue dot appears on certain objects to make sure you know they can be poked, but it seemed like almost anything would perform an action when I touched it.
You help Bizzy Bear use a bulldozer and a dump truck, and you help out the other animals  by guiding them along a fence they're painting, or helping them raise and lower a crane, and that's just the beginning. The difficulty level for all of these actions are nonexistent, and you're free to remain on each page as short or long as you'd like.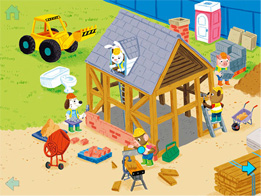 The sound effects are excellent, full of whirring machines and something seems to play whenever things are poked. On one page in particular, pressing enough of the objects creates a mini song, and all the hammering and sawing turns into a nice little chorus.
The animation is very well done. It's cartoonish in a great way, as it still showcases all the construction equipment in a realistic fashion, but with bright colors that will really appeal to children.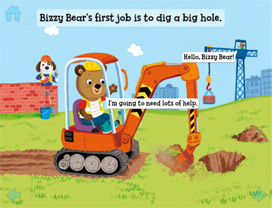 I really like the fact that the app allows you to turn off the text audio, and gives the option to set how long text appears. This is excellent  if you want your child to read it by themselves (or if you like to do the voices for them).
It may seem a bit pricey, but it's on par with similar apps. With even one read you'll get enough out of it to warrant the purchase, and your children will undoubtedly  come back for more.
Details:
– 8 highly interactive pages
– Story is read by characters in an English accent, with slightly different voices
– Poking any character will elicit a sound bite or an action, and swiping and clicking moves the construction equipment in different ways
– One portion of the story creates a musical scene that is a nice treat
FREE GIVEAWAY!
Nosy Crow, the makers of this app, and the other Bizzy Bear productions, have kindly provided two promo codes to give to our readers. By noon tomorrow, we'll be choosing two of our Twitter followers to receive the app for free. So go ahead, follow us, and you might get a great message tomorrow!