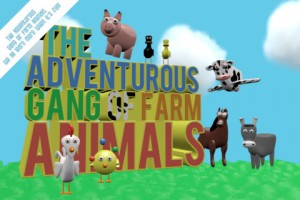 Adventurous Animals for iPad teaches basic preschool skills in a fun and interactive game play environment.
Price: $1.99
Age: 2-4
This app is great for those little ones who are just learning to talk.
WE HAVE TWO FIVE PROMO CODES TO GIVE AWAY – READ AFTER THE REVIEW FOR DETAILS!
Pros:
– No ads, in-app purchases, or links to external sites
– Bright, clean, simple graphics and easily recognizable objects
– Fun animation and music to keep kids entertained and stimulated

Cons:
– The skills being taught are too broad in difficulty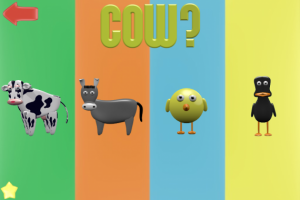 If Old McDonald had a programming degree instead of a farm and developed apps instead of milking cows, he would have come up with this debut game from Festa Apps. Adventurous Animals combines very basic skills with cutesy graphics and fun music to help toddlers and preschoolers learn counting, recognition, and spelling.
The main menu features a pastoral scene of your basic barnyard buddies – pig, cow, horse, etc.  When I tapped each animal I was met with a larger picture of the animal and the sound it makes, and with some I could even push a red button and get a short (and funny) clip.  The cow, for example, turns into a spaceship if sorts and flies at warp speed into the outer reaches of the galaxy to Wagner's "Flight of the Valkyries".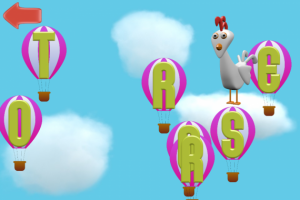 The three mini-games are Memory, Counting, and Spelling, and this is where things go left for me. Memory is easy enough; I was presented with the name of an animal in large letters at the top of the screen while the word was spoken and I had to choose correctly from one of 4 animals pictured. For each correct answer I earned a star and after a certain number of stars I earned a medal. While the Counting and Spelling games are very straightforward, I highly doubt that the same children who can point out the pig can also count 10 flowers and spell "H-O-R-S-E".
Therein lies the biggest flaw of this app. While my 2-year-old daughter very excitedly pointed out and tapped the screen for each animal named in the Memory game, she really just stared blankly at the screen when it came to the Counting game. When we opened the Spelling game and the flying horse and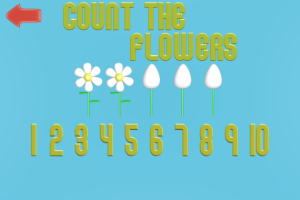 letter balloons appeared, she ran around the house yelling "Yeee-Haw, cowboy!" This issue with the targeted age range basically made 50% of the app unappealing to my youngest, and the other 50% unappealing to my oldest. At $1.99 I would want the entire game to be interesting to at least one of them.
Adventurous Animals would be a really great first app for the child who is just learning their way around an iPad. The games are simple, the graphics appeal to 2-4 year age range, and everyone really loves a dancing duck. Parents or older siblings would need to help with the counting and spelling to avoid frustration and ensuing disinterest. Another idea would be to offer different language options to help older children learn the fundamental basics of foreign languages.  Spanish, French,  and Italian would be great choices for bilingual households or those who want to get an early start on a second language.
As it sits, $1.99 is a little steep for this app as I would want a little more substance for that price.  It is, however, a good starting point for early learners and the budding tech geniuses in your family.
Details:
– 3 mini-games to play – Memory, Counting, Spelling
– Fun graphics and realistic animal noises
– Animations and music to keep kids engaged and entertained
FREE GIVEAWAY!
Festa, the makers of this app, have kindly provided five promo codes to give to our readers. By noon tomorrow, we'll be choosing five of our Twitter followers to receive the app for free. So go ahead, follow us, and you might get a great message tomorrow!
Please help support iPadKids by downloading the game via the App Store icon below!