This was a big week in our house. My 3 and 5-year-olds received a present in the mail from their amazing, fantastic, best-ever mom (me!): their very own yoga mats. Yoga has been the newest and greatest thing in our home lately, beating out ice pops and backyard sprinklers. This is a kid-obsession I can get behind. Yoga is often reserved just for adults, when in actuality it can keep kids active, relieve their stress, and encourage them to think in positive ways. Clear some space on the floor (no mat necessary!) and try some of these yoga apps with your little one.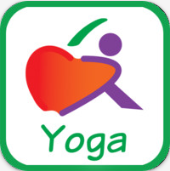 C-Fit Yoga by Classroom Fitness
These four 10-minute yoga videos were created for children in the classroom, but they'll work in your living room, too! This app will help improve your child's balance, flexibility, range of motion, and strength, as well as teach how to relax in a chaotic environment. Lively graphics and original music accompany the demonstration of many different poses. $0.99, 4+ rating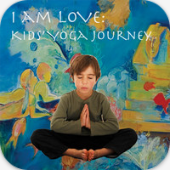 I AM LOVE – Kids' Yoga Journey by Gramercy Consultants
Featured in April 2011 Parents Magazine, I AM LOVE incorporates 13 yoga poses demonstrated by children into an interactive story created to help kids feel great about themselves. Your child can listen to the story, read the story, or press autoplay, as well as enjoy animated poses, breath affirmations, and amazing new facts. $1.99, 4+ rating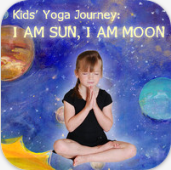 I AM SUN, I AM MOON – Kids Yoga Journey by Gramercy Consultants
This Yoga Journey app introduces the Sun and Moon Salutations of Hatha yoga, offering your child a healthy way to awaken the body and settle the mind. This interactive story tells the tale of yoga's birth 5000 years ago and demonstrates 19 poses along the way. $1.99, 4+ rating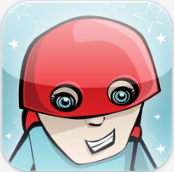 Super Stretch Yoga HD by The Adventures of Super Stretch, LLC
This app uses storytelling, animation, and video examples to teach 12 yoga poses appropriate for all skill levels and ages. Let Super Stretch and his friends teach the fun of physical activity and breathing to your child! FREE, 4+ rating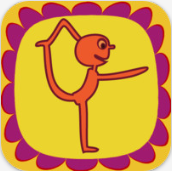 YogaKids by SANSE BOULEVARD S.L.
YogaKids invites your child to both move and relax through the teaching of 39 different poses. With its intuitive interface, children can control the audio, sound, movement, speed, and imaginative cloud buttons. Full of color, music, and joy, your child will enjoy experimenting with different movements in a uniquely fun and imaginative way. $2.99, 4+ rating